From: Eric Holmlund and Jeff Alderson
Dear friend,
In case you hadn't noticed, TikTok is the hottest and fastest growing social media platform right now.
If you've looked at it from a marketing perspective, you probably already realize that it plays host to a massive demographic range, and is NOT just a site for teens.
Influencers and companies of all sorts have quickly jumped onto the platform, and are rapidly building followings. I'm talking about mainstream companies like the Washington Post, Chipotle, BMW, HP, Fortnite, and ESPN, just to name a few. Not to mention organizations like NASCAR, the NBA, the NFL, and the San Diego Zoo.
Why are all the serious marketers and companies clamouring to gain a foothold on TikTok? Because it's the fastest growing global audience, and fastest way to build a following on the web right now.
Do not make the mistake of thinking TikTok is just a fad. Remember YouTube back in 2006? Not a lot of businesses were quick to jump into that game, because it looked like child's play. Big mistake, right?
Don't you wish you had 1 Million or more YouTube followers right now? Not only would it be an incredible platform for marketing ANY product or service that your business sells, it would also be an opportunity to generate a massive income from YouTube itself with their partner program. Popular YouTube channels these days are raking in millions of dollars of revenue sharing income.
In the same way, TikTok has rapidly become an authoritative marketing and educational channel, and NOW is the time to stake your claim.
Yes there is a lot of silly stuff and dance videos on TikTok; however, there is also a growing body of high quality and legitimately helpful content. While much of TikTok is about entertainment, it's also proven to be very much about education too (in the video at the top of this page I give MANY examples). In fact, we would argue that TikTok is the fastest growing educational platform on the planet!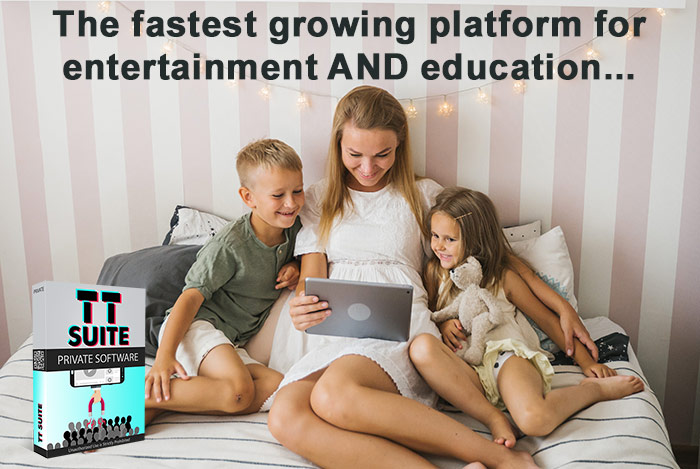 Like YouTube, TikTok is paying out millions of dollars to its content creators, and MANY of those top content creators are producing educational videos. We're talking about short educational videos... under 60 seconds! Many TikTokers are making crazy money just by posting a handful of short videos.
TikTok currently has three built-in programs for earning income: the Creator Fund, Creator Marketplace, and Live Gifting.
Beyond the partner programs, many TikTok users are getting paid thousands of dollars for posting sponsored videos... and again these are short videos under 1 minute.
Just off the top of my head, here are at least 10 different ways of making money with TikTok:
TikTok Creator Fund (partner program)
TikTok Creator Marketplace
TikTok Live Gifting
Selling your own products
Affiliate marketing
List building
Sponsored posts
Driving traffic to offline businesses
Receiving donations
Gain authority in a niche and monetizing in other ways

(In the video at the top of this page, you'll see over 50 real life case studies of TikTok users who are cashing in with all of the methods listed above.)
While you'll often see the craziest and sexiest videos featured on TikTok's home page, I want you to know...
You do NOT need to be young, funny, sexy, or fashionable to be popular on TikTok.
Many of the popular content creators on TikTok are just normal-looking people who are sharing interesting short videos in a niche.
Side Note: As a dad (I have 6 kids) I don't recommend TikTok for kids. It's basically a jungle right now and there is plenty of what we would consider to be inappropriate stuff. That having been said, there are millions of kids already ON TikTok. So from an ethical and moral standpoint, we also think its beneficial for helpful content creators like YOU to post GOOD content on there. In fact, the more business owners such as yourself that get involved, the better!
The other thing to note is that WE don't even spend time on it ourselves. We don't scroll the TikTok home page or waste a minute of our time there. We use our automation solution to do the "interacting" for us, so we can simply focus on marketing.
You can do the same, so you don't have to worry about getting sucked into the TikTok vortex. If you were building your following there the "traditional" way, yeah I'd be worried about you wasting time and spending all day scrolling through videos. With our software, the only real "work" you have to do is come up with some content to post (easy videos under 60 seconds... and there are also ways to do it without having to create your own videos -- I explain it in our members-only training).
The software goes to work FOR you, so you don't have to waste a moment watching videos, commenting, or anything else.
The name of the software that will allow you to do all of this is TT Suite...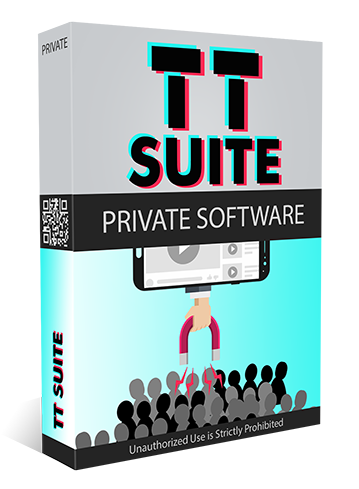 As online business owners, we've known forever that "the money is in the list", right? Then as social media took over, we added "the money is in the influence" to that equation. TikTok is the hottest influencer platform right now, and if you're serious about growing an online business, you do not want to get left in the dust here.
This is like getting another shot at YouTube in 2006... with a major difference. The audience here is already WAY bigger, and its MUCH easier to grow a huge following than it was back then!
With our TT Suite software, you can grow your TikTok following on autopilot. Imagine having over 1000 followers just a very short time from now. Imagine having over 10,000 soon after that. Then imagine seeing those numbers snowball into 100,000 and then over 1 Million.
With those kind of numbers you can drive massive traffic to any product or service of your own, you could be making serious partner income from the platform, and you could be raking in thousands of dollars for tiny little sponsorships.
I did a test to see if TT Suite could really grow a following in absolutely ANY niche...
I happen to teach kids Sunday school at church, so I set up an account in the name of the character that I play whose name is Billy. I told NO ONE about this experiment, except my wife and my pastor, LOL.
I posted some videos of me sharing Bible verses and teaching some kids Bible lessons. I wanted to PROVE that TikTok can be used for any niche, and it can be totally clean; it's not about dancing in your underwear or anything like that. If I could gain a following sharing Bible verses, it would prove you could gain a following for ANYTHING.
I'm happy to report that it worked awesomely! I used only TT Suite. Absolutely no other source of traffic or followers. I quickly grew the account from zero to over 4,000 followers!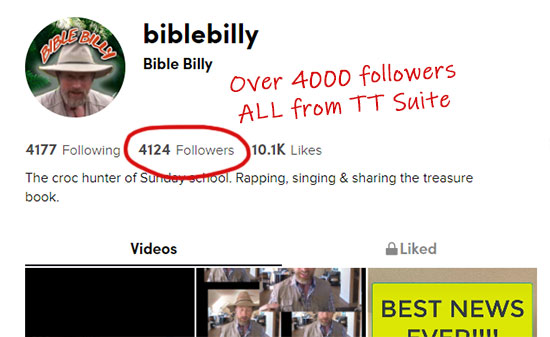 I grew this account using TT Suite and ONLY TT Suite. I did not share this with my list, or my friends, or anyone. NONE of these followers know who I am, and 100% of them came from using the TT Suite software. I didn't spend any time on TikTok myself, and I don't even have the app on my phone.
So YES... this works for ANY niche! And once again I will reiterate: you DON'T have to be a dancer. You don't have to look a certain way. You DON'T have to be a young person. (And frankly... there are also ways of doing it without ever appearing on camera or even making any videos! Members will learn this in our training video.)
If you're not convinced that this works for any niche that you are in, I encourage you to go back up and watch the video at the top of this page. It contains over 50 real life examples of people who are killin' it on TikTok, and a bunch of them are in WEIRD niches that you would not expect.
Huge AGENCY LICENCE Opportunity
Today we are also including an Agency License with TT Suite, so you can offer this valuable service to your clients.
This is something that will appeal to pretty much any business. In the video at the top of this page, I show how many different businesses are using TikTok to market their business, including LOCAL businesses. In fact, local businesses are perfect for TikTok, and most of them are not on it yet, and certainly don't know how to grow a following.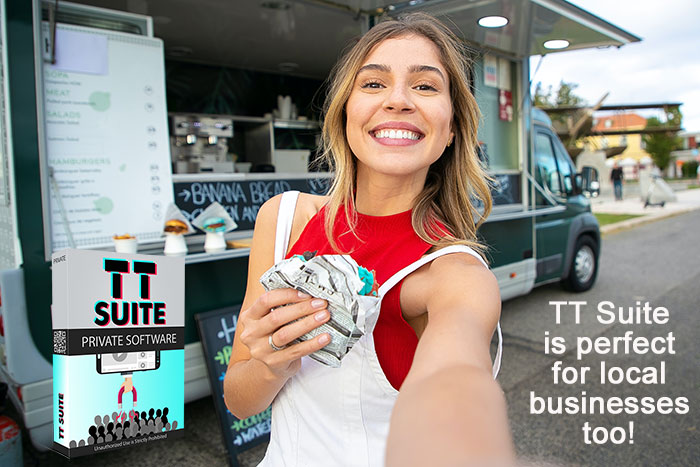 Using TT Suite, you can grow their following FOR them and get paid. You could charge any price. Perhaps $300 a month, or more. Imagine how much you could make if you just go out and get a handful of businesses on board. Just don't tell them about your secret weapon!
Plus, when you grab your copy of TT Suite TODAY, we're also going to throw in...
5 MAJOR BONUSES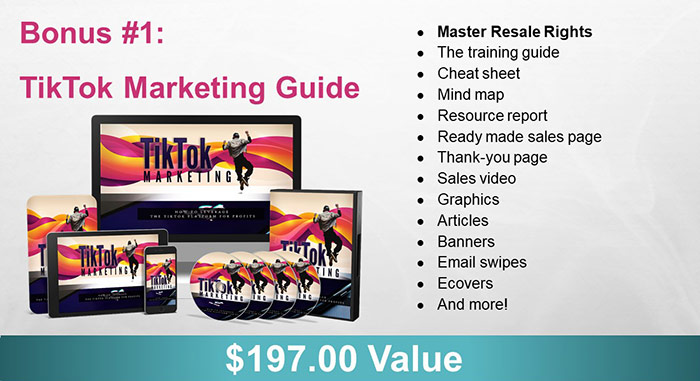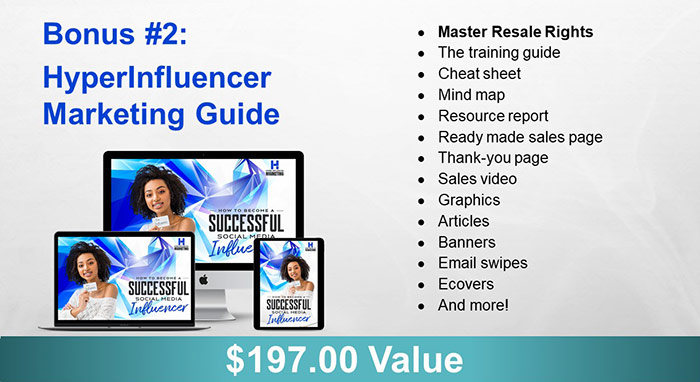 The bonuses alone are valued at $785.00, and you'll get to download all of them today when you grab your copy of TT Suite.
TT Suite is a software program that runs on any Windows computer.
I know most of you Mac users have a Windows computer sitting around somewhere. If you DON'T have a Windows computer... I'd recommend getting one to run this program. Here's why... I just looked on Amazon for Windows computers. I viewed only "new" ones and only with Prime shipping. There are a bunch of Windows laptops between $190 and $250, and a bunch of Windows "mini PC" computers between $140 and $180. TT Suite is a program you can run 24/7 on your computer, building followings for yourself and your clients. When you consider the value compared to doing all the work yourself, or outsourcing it, its well worth grabbing a cheap Windows computer if you don't already have one.
The bottom line is, if you want to grow your following on autopilot, the solution you need is TT Suite.
This is a private software, and we don't want the whole world to get their hands on it. Only our customers will have access to this software, and each customer will receive an individual license.
As a licensed owner, you can run unlimited campaigns for your business, so you can grow multiple followings in multiple niches. Plus you're getting an agency license so you can get paid by providing this service to clients such as local businesses.
It took us a LOT of time, money, and effort to create this software. Considering what it can do for your business, we could be charging a huge price for it.
We could easily be selling this on a webinar for thousands of dollars, or we could be charging a monthly fee of $147 a month or MORE.
As I mentioned at the top of this page, we also reserve the right to take down this offer at any time.
If you don't grab TT Suite today, you could end up having to pay much more, or you could miss out on it altogether if we pull it off the market.
We decided on the price of just $997.00, since that puts it within reach for most small businesses.
However, we've decided to make it CRAZY affordable to the first round of business owners who get in right now.
Instead of $997.00, today we're going to let you grab it for mere pennies on the dollar.
Consider this your lucky day...